WHITE CAP: BAYADA CLINICAL LEADERSHIP ORIENTATION Template
September 20, 2022

to

September 21, 2022
EVALUATION ONLY
BAYADA CLINICAL OFFICE LEADERS ONLY (ACCESS CODE PROVIDED FROM BAYADA UNIVERSITY EMAIL)
Criteria for Successful Completion of Activity to Claim CE Certificate
Live Classroom:
Attend planned length of activity 

Validation by CE Administrator of attendance via sign-in sheet

Completion of course evaluation
Learning Objectives
By the end of this course the learner will be able to:
Identify the central elements of communication to be effective in interpersonal interactions.  

Distinguish between the different workforce generations and clients of today.

Gain knowledge and skills to deal effectively with cultural differences.

Provide a detailed overview of infection prevention portal site, resources, and tools.  

Examine ways to optimize safety for clients and employees through risk management. 

Recognize roles, responsibilities and resources during internal and external surveys.

Relate the key concepts of case management in your everyday work.

Utilize motivational interviewing techniques to guide conversations with clients to identify areas of desired change along with using techniques to empower and sustain changes.
BAYADA HOME HEALTH CARE Global Support Center
4300 Haddonfield Road, East Building
Global Support Center
United States
Cindy Istvan, MBA, BSN, RN
Cindy has been involved in Home Health Care for over 40 years. She has been at BAYADA close to 20 years beginning as a Director of a Medicare certified start up in CT. She has held several support roles most recently the Director of Regulatory Support and Guidance.
Bridgett "BT" Tabor, MA
A Georgia native, BT has over 15 years' experience working in private, public, and non-profit organizations. In her last role, as Assistant Director of Diversity & Inclusion Recruitment for the University of South Carolina, she was responsible for implementing a comprehensive diversity recruitment plan and develop relationships with internal and external partners. In her current role as Program Manager, she is responsible for developing, managing, and effectively executing enterprise-wide DEI strategies and initiatives. Tabor partners with different practices and roles at BAYADA by providing coaching, training, and resources as it relates to diversity.
Joseph Wendover, MA
Prior to BAYADA, Joe served as Chief Diversity Officer and Lead Consultant at Deb Russell Inc. where he was responsible for conducting diversity, equity, and inclusion assessments with business clients around the globe to determine DEI needs and identify growth opportunities. He also provided executive and leadership coaching on inclusive management tools and practices and provided input on internal policy design and implementation. Earlier in his career, Joe served as the Corporate Field Inclusion Manager for Walgreens Boots Alliance (WBA), where he was responsible for an initiative to recruit, hire, and retain individuals with disabilities in the company's workforce. Joe successfully placed over 250 people with disabilities into the company's Connecticut based New England Distribution Center and replicated the training model throughout 18 other centers. He has worked with a variety of clients representing academic, not-for-profit, and for-profit sector. Joe's interests revolve around diversity and inclusion, equity and equality, employee engagement, work/life balance, motivation, and organizational climate. Joe also currently serves as the President of the Board for Disability:IN Connecticut and has been appointed as member of the Connecticut State Rehabilitation Council and The CT Governor's Committee on Employment of People with Disabilities.
Mary Hayes, MSN, RN
Mary Hayes came to BAYADA after 19 years at Holy Redeemer, where she worked with former Home Health Specialty Practice Regional Director Pat Mallee, who eventually brought her to BAYADA as the director of the former Lower Bucks, PA Home Health (LBV) office. After spending 14 years as a service office director, Mary transitioned to the Clinical Standards & Leadership (CSL) office where she has been involved in various projects over the past six years related to clinical education and performance improvement.  Throughout the COVID-19 pandemic Mary rose to lead the COVID Command Center, including the COVID-19 email response team, Exposure Team, Exemption Team and supported the Fit-Testing Team. Mary recently accepted leadership responsibility as the Director of Infection Prevention.
Colleen T. Feeley, MSN, RN
Colleen joined BAYADA in 2007 as a clinical manager in the former Bayonne office (now the Jersey City (JC) assistive care state programs office). In 2013, she transitioned to the former NUR office (now the Clinical Standards & Leadership (CSL) office). Colleen mentored new clinical leaders and was involved in the quality assurance (QA) process and survey of offices. She also facilitated leadership training, including White Cap and White Shoes. Colleen has supported the Infection Prevention (IP) team as the lead for Assistive Care on the IP committee and conducted the IP training in White Cap. Through the COVID pandemic, Colleen has been a dedicated member of the COVID team and COVID Command and ultimately assumed leadership of the Exposure Team. As an Infection Prevention Manager, she oversees the IP process and supports offices through policy, procedure, and education.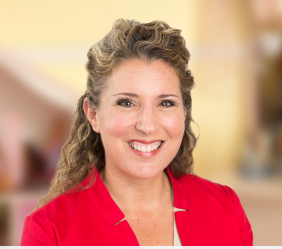 Stacey Rice, MS, BSN, RN, CRRN, CCM
Stacey has over 25 years' experience in nursing and is a Certified Rehabilitation Registered Nurse (CRRN) and Certified Case Manager (CCM). She has worked in a variety of direct patient care areas, as well as for large insurance organizations. Stacey has been in home care since 2010, where she started at the bedside providing direct patient care. Stacey has performed the role of Transitional Care Manager assisting with care coordination for both assistive care and skilled care for technology dependent clients transitioning from hospital to home. She is currently the Director of the Adult Transitional Care Program and assists with complex case management.
Tyke Ingram, MSN, RN, CRRN
Tyke has coordinated and overseen the development and implementation of new-hire training and career-path development of clinical staff, including interviewing, coaching, and mentoring for over 10 years. She strives to promote clinical standards to ensure quality outcomes. She serves as a clinical resource for clinical and non-clinical associates and educators, enterprise wide. She develops and facilitates annual training curriculum for nurses and therapists. She has developed a case management course for nurses, including care coordination for home health, defining case management, application of care principles and identification of best practices. She herself has mentored over 100 clinical leaders for BAYADA Home Health Care. She directs the planning for annual clinical training program for all clinical leaders for a one-day symposium. This symposium hosts nationally recognized speakers.
Paula Booker, MSN, RN
Paula holds a degree as a Clinical Nurse Specialist Educator. She has been a nurse for over 30 years.  She has worked with surgical trauma patients including those with tracheostomies and ventilators in a level 1 trauma hospital.  She has taught in a baccalaureate nursing program as the skills lab instructor. Paula has been an Adjunct Clinical Faculty member at 2 different baccalaureate nursing schools where she supervised students on med-surg, rehab, neuro, and oncology units in the hospital.  She was a nurse manager in a veteran's hospital where she was accountable for a 36-bed medicine-oncology unit and 30 employees including RNs, LPNs, and unlicensed assistive personnel.  Paula joined BAYADA in 1999 as a field nurse then in 2000 became a supervisor.  She manages the ANCC accreditation for nurses and is a facilitator for corporate on-boarding.  Paula currently is assisting the respiratory program administrator with overseeing the fit testing process for BAYADA's respiratory protection program.
Lisa Anne Begley
Lisa is the Director of Learning and Development for BAYADA Home Health Care. She has had various leadership roles at BAYADA and is celebrating her 13-year anniversary this year. During her time at BAYADA, Lisa has focused on implementing role-based leadership development resources and BAYADA's programs have achieved bronze status in the Chief Learning Officer Learning Elite program in 2018 and 2019. Prior to BAYADA, Lisa worked as a consultant in various learning and leadership roles.
Kimberly Morris-Flores, MSN, RN
Kimberly is currently employed with BAYADA Home Health Care in Clinical Standards and Leadership (CSL). In this role she supports and serves the organization and specialty practices by providing leadership and direction to attain clinical integrity, compliance, and performance. Since joining BAYADA in 2006 and she has fulfilled multiple roles with Clinical Standards and Leadership, Legal Services, Quality Assurance as well as having been a Clinical Manager and field nurse. Her current role a Clinical Support Specialist includes being an ANCC Nurse Planner, student affiliation coordination and curriculum development for clinical managers. She considers herself very fortunate over the years to have been able to work and learn from institutions like Robert Wood Johnson University Medical Center, Bristol Myer Squib Children's Hospital in New Brunswick, Children's Hospital of Philadelphia, and Temple University Children's Medical Center. She maintains active RN licensure in New Jersey and Pennsylvania since 1993.
Kyle Wollyung, BSN, RN, CRRN
Kyle has been with BAYADA since 2009. He started as a field nurse, worked as a clinical manager following that and as a Manager of Clinical Operations.  He is currently a Clinical Deployment Specialist where he helps to provide assistance in the Skilled Nursing Technology office.
Tracey Tillger, BSN, RN, CRRN
Prior to BAYADA, Tracey was a school nurse and taught small groups of part-time nurses about new viruses and management of ADHD meds/children.  Since coming to BAYADA, Tracey has been a field nurse, and is currently a Clinical Manger II.  Tracey's role as a clinical manger has evolved since 2010.  Her extensive work with tracheostomies, mechanical ventilation, and client's with traumatic brain injuries and ALS has lead her to acquire her certification in rehabilitation.  She is now a CRRN.
Beatrice Lewis, BSN, RN, CRRN
Bea started as a field nurse then worked as a clinical manager.  Currently she works as a Manager of Clinical Operations where she supports the Skilled Clinical Operations office in assisting clinical mangers in their role.  She provides assistance with client's needing skilled nursing care and those who need personal care services.
BAYADA Home Health Care is accredited as a provider of nursing continuing professional development by the American Nurses Credentialing Center's Commission on Accreditation.
RNs will receive CE credit
All others will receive a Certificate of Participation
Available Credit
10.75

Contact hours (ANCC)

10.75

Participation
Cancellation/Refund
If course is cancelled:
By BAYADA; if the education is cancelled for any reason the learner will receive a full refund for any applicable course fee.  BAYADA will not be responsible for any associated fees or costs such as travel or lodging.
By learner; any applicable course fee will be refundable up until one (1) day prior to date registered for the education.  After this date the course fee may be non-refundable.  BAYADA will not be responsible for any associated fees or costs such as travel or lodging.
Complaint Resolution
Contact education@bayada.com for any grievances and the complaint will be addressed within two (2) business days.  Complaints will be disseminated to all appropriate parties for review and resolution of any conflicts or grievances.
Special Needs
Contact education@bayada.com for consideration of request.  If special needs accommodations are not available, the participant will receive a full refund for any applicable course fee.
Required Hardware/software
Please see Technical Support tab on Home Page