Watch Your Step, Before You Wreck: Medication Reconciliation
Recorded Webinar:
SDL-Self Directed Learning
The purpose of this activity is to provide the learner with the most up to date Information on medication reconciliation. 
Criteria for Successful Completion of Activity to claim CE Certificate.
Recorded Webinar:
View Recorded Webinar
Complete Post-Test with a passing score of 100% 
Complete evaluation with electronic signature
Target Audience
RNs
LPNs
All Health Care Professionals regardless of CE credit
Learning Objectives
By the end of this educational activity the learner will be able to:
Define medication reconciliation
Describe the steps of performing a medication reconciliation
Identify at least 3 barriers of performing an accurate medication reconciliation
Analyze how an accurate medication reconciliation impacts medication errors
Critique a sample medication reconciliation documentation
DISCLOSURE
No relevant conflict of interest or financial relationships were disclosed for this educational activity by any of the authors, presenters, coordinators, planners, or reviewers.
Laura Clark, MSN, RN, CCRN
Laura Clark developed this course while she was a graduate MSN student at Drexel University. She has an extensive background of ICU nursing, management of patients with tracheostomies and mechanical ventilator, experience in endoscopy and in interventional pulmonary. She is a certified critical care nurse by the American Association of Critical Care Nurses. She has prior teaching experiences with lecture and in-services. She has experience with bar coded medication administration as well as paper MAR. She has researched medication administration in the past and has created sample teaching templates with test question development. She currently works in an outpatient procedural setting with medication reconciliation being a part of daily patient care. Often patient's procedures may be affected by the patient's medication. Medication reconciliation is a continuous process. Laura works daily to collaborate with physicians and health care team with medication discrepancies and concerns that are hard stops in the procedural area.
RELEASE DATE: 05/06/2018 | REVIEW DATE:   02/21/2022
RENEWAL DATE: 02/22/2022 | EXPIRATION DATE: 02/22/2025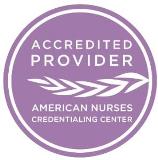 BAYADA Home Health Care is accredited as a provider of nursing continuing professional development by the American Nurses Credentialing Center's Commission on Accreditation.
Available Credit
0.75

Contact hours (ANCC)

0.75

Participation
Cancellation/Refund
If course is cancelled:
By BAYADA; if the education is cancelled for any reason the learner will receive a full refund for any applicable course fee.  BAYADA will not be responsible for any associated fees or costs such as travel or lodging.
By learner; any applicable course fee will be refundable up until one (1) day prior to date registered for the education.  After this date the course fee may be non-refundable.  BAYADA will not be responsible for any associated fees or costs such as travel or lodging.
Complaint Resolution
Contact education@bayada.com for any grievances and the complaint will be addressed within two (2) business days.  Complaints will be disseminated to all appropriate parties for review and resolution of any conflicts or grievances.
Special Needs
Contact education@bayada.com for consideration of request.  If special needs accommodations are not available, the participant will receive a full refund for any applicable course fee.
Required Hardware/software
Please see Techincal Support tab on Home Page